STRUCTURED LUFF TECHNOLOGY
POSITIVE THINKING - Doyle Sails Structured Luff technology is the biggest aero evolution in decades, offering unparalleled performance, exclusive to Doyle Sails.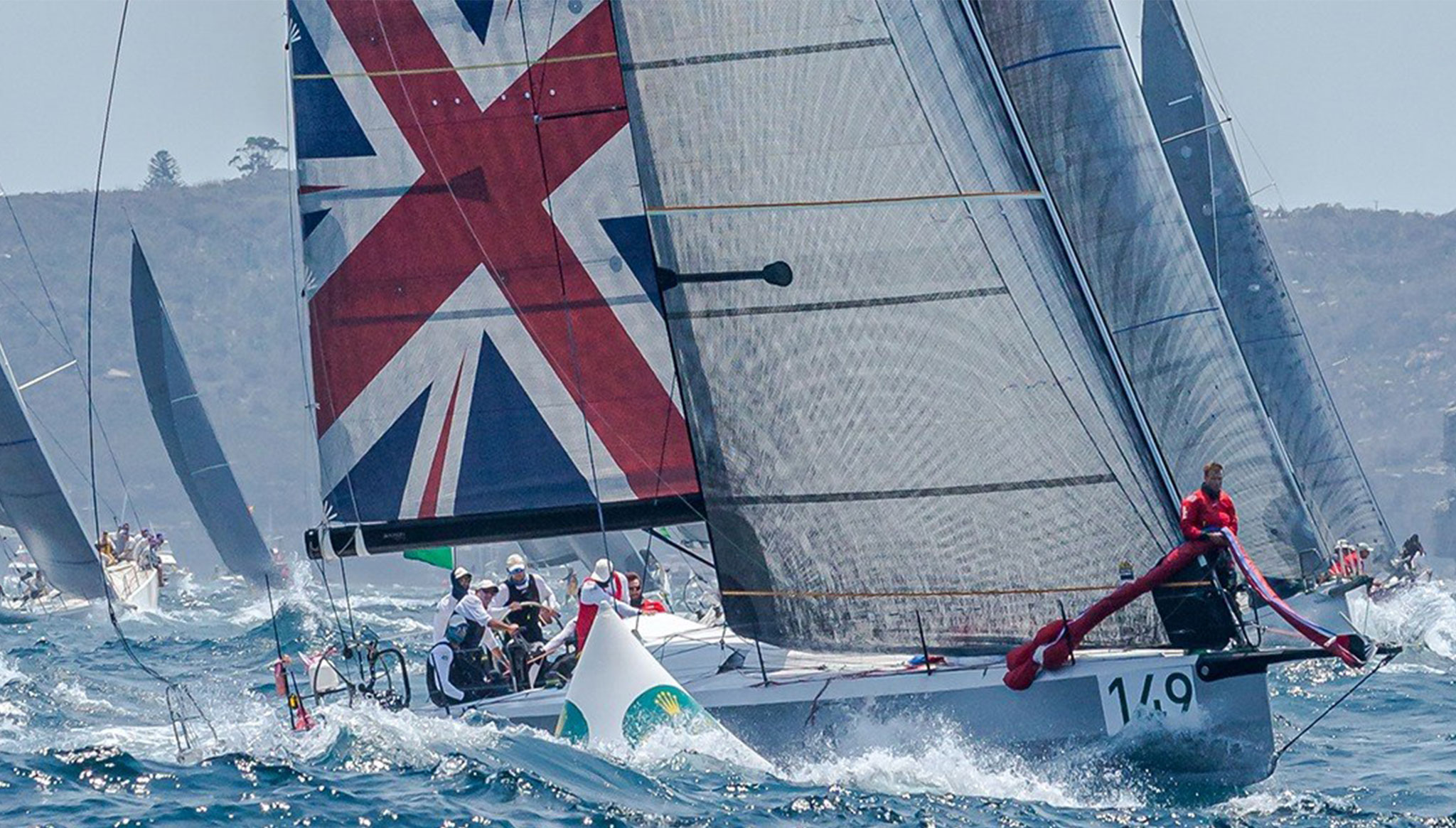 Positive in so many ways - reduced compression, higher drive force, and greater range. The power of positivity is more important than ever and Doyle Sails has done the hard yards - now it's up to you to reap the reward. Speak to your Doyle Sails expert about what Structured Luff sails can bring to your sailing experience, don't get left behind.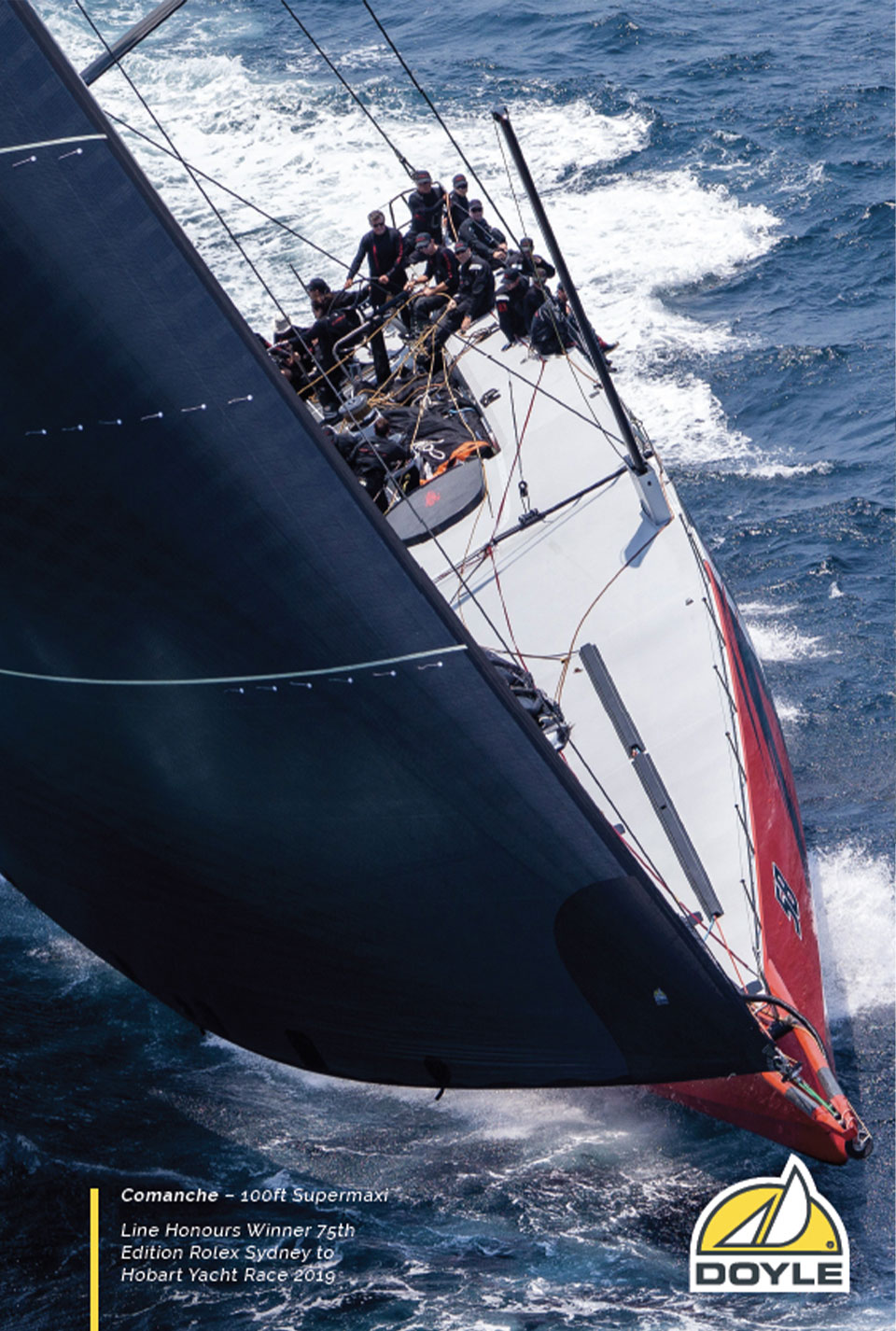 In the Grand Prix and Superyacht market, Doyle Sails' has triggered a key change in design, delivering breakthrough technology. Doyle Sails innovative approach has not only provided a new generation of high-performance sails, but started a revolution that looks set to have a far greater knock-on effect into Cruising, Racing and Multihull's. So significant are the developments, that there are many reasons that the Structured Luff technology could transform how yachts are designed and built.

At the heart of this development is changing the manner in which load in the luff of a sail is distributed and by reducing luff sag it allows the sail to achieve more driving force.

- WIDER SAILING ANGLES CAN BE ACHIEVED.
- FURLING RELIABILITY - EITHER TOP-DOWN OR BOTTOM UP.

So, what are Structured Luff sails?

'This technology came out of the free-flying Code sails we were building a few years ago where we took the cable away and put a band of carbon up the front of the sail instead,' says Doyle's Superyacht sail coordinator Matt Bridge. 'As part of that and to distribute some of the straight-line load, we put a lens structure in behind and into the sail. These are continuous fibres that run from the head to the tack in the front of the sail that gives us the possibility to shape the front of the sail and distribute what used to be a straight-line load back into the sail. Now we've taken that thinking from the Cableless Code sails and applied it to our upwind designs.

In some instances, we are reducing loads by up to 50 per cent,' explains Doyle Sails International's COO Emma Hendy. 'Reducing luff sag is one of the biggest factors in allowing our sails to achieve more driving force. On some of the bigger boats, we're seeing a reduction in sag at the middle of the forestay of up to a metre, which in turn means that the sail can be projecting a metre further to windward. So there are some serious benefits for racing superyachts. But from a cruising standpoint, there are massive advantages too, where the reliability of the furl, the reduction in weight and the fact that these new sails are easier to store are all important factors in this area.'

LEFT: 'Comanche', 100ft Supermaxi; Line Honours Winner, 2019 Rolex Sydney to Hobart.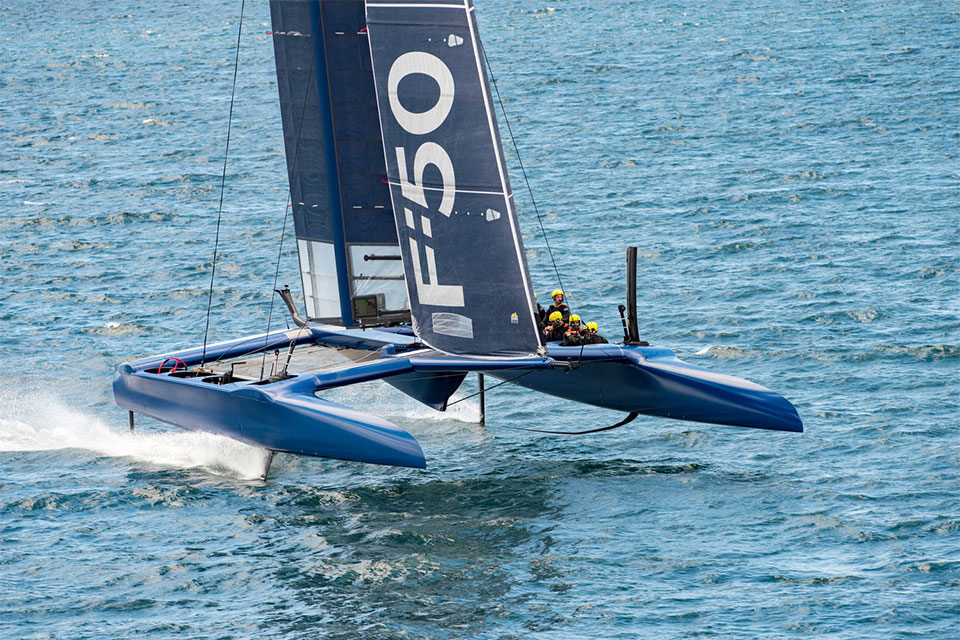 Structured luff sails have the potential to improve performance on a wide range of sailing vessels but there is one group that stands to gain exponentially….Multihulls.

Whilst this may be a generalisation, multihull rig design differs significantly from that of a monohull by virtue of a wide shroud base and larger mast sections that are very often without any form of aft rigging. This may allow for easy handling of large roach mainsails it also leaves only shroud and mainsheet tension as tools to keep headstay tension and luff sag under control. Take a look at a photo of any multihull pressed up in a breeze and you will notice far more stay sag than typically seen on monohulls and something that multihull sailors have had to live with as part of the trade-off for faster boat speed.

So, if you take a technology such as Structured Luff that can dramatically reduce (to the point where it is almost negligible) both aft and side sag components without the need for increasing loads by the addition of a backstay and put it on a platform where the chronic sag is an issue, the gains are significant. And it doesn't stop there, one of the reasons multihulls are inherently fast is the fact that they have very little immersed hull and wetted surface, but the downside is that they have less reserve buoyancy (the hulls have less volume) so it takes less weight to adversely affect them. Structured Luff sails that have been tested so far show not only no need to increase the load to control headstay but in actual fact, generate considerably less load than equivalent "normal" sails. This means that when factored in at a design stage, headstay diameters, mast fittings and sail handling hardware can all be scaled down resulting in a somewhat unusual equation in yacht design – more performance for less weight!