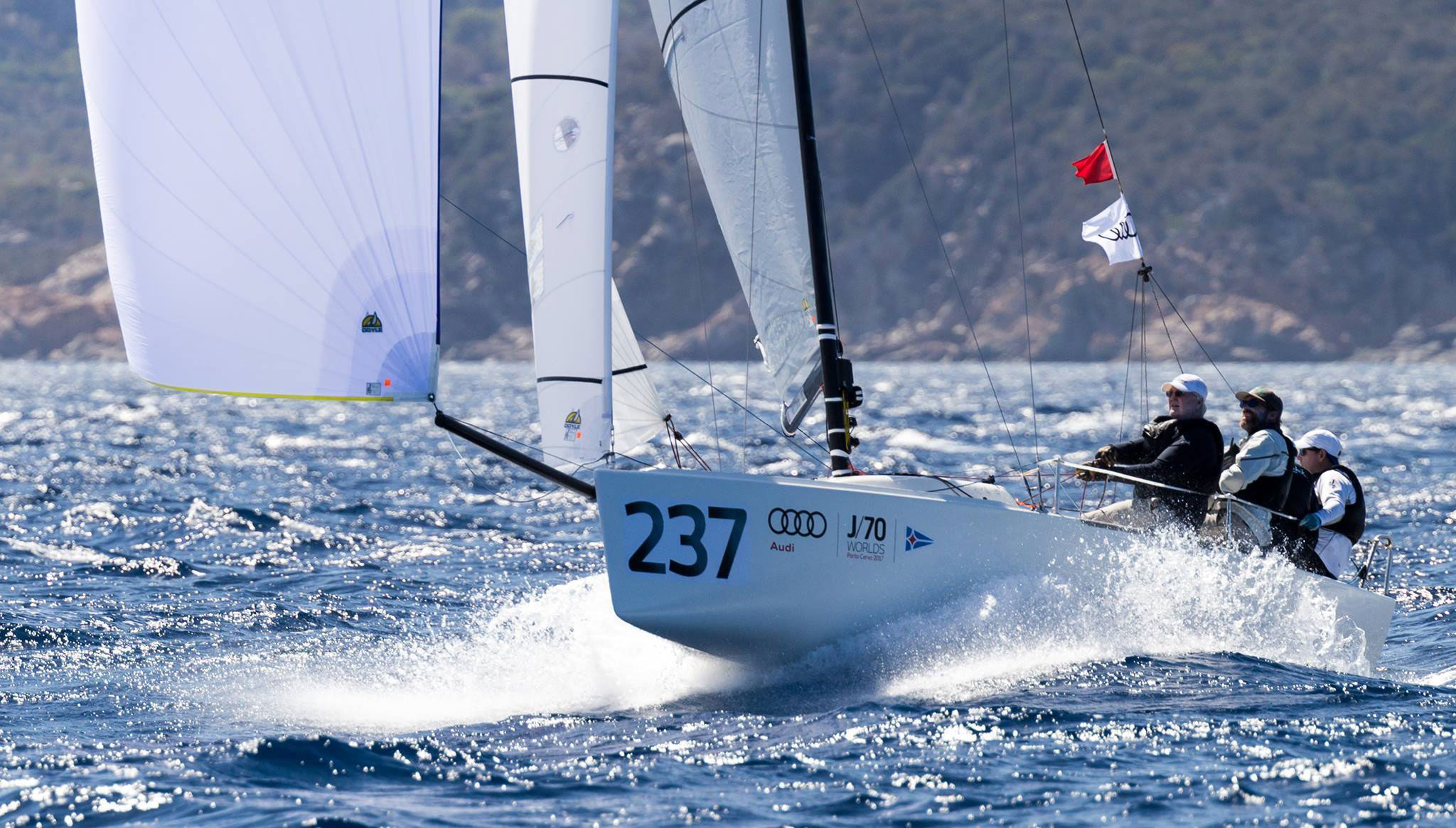 Winning sailors know that when boats are identical, sails become the major opportunity to gain a performance advantage. Doyle Sails utilises a computational simulation environment to engineer sails that are faster out of the bag, easier to trim and maintain their designed shape through a greater wind range.
The Doyle Sails One Design group boasts some of the world's leading sailors and sail designers, all with equally impressive lists of accomplishments and accolades across a wide variety of classes and events.
If your boat is not listed, contact your local loft or email us at
info@doylesails.com
Headed up by Jud Smith, 2006 and 2018 Rolex Yachtsman of the Year.

Jud skippered his J70 'Africa' to win the 2018 World Championship after winning the 2017 J70 World Championship as bowman on 'Relative Obscurity'. Jud now has 10 World Championship wins under his belt plus has been a sailmaker for over 30 years and is regarded as one of the finest One Design sailmakers in the world.

The North America One Design team is strengthened further by the third generation Boston family of sailmakers based out of Ontario. Boston Sails was established in the 1930's by Howard and Lolly Boston in Mt. Clemens MI, Boston Sails specialized in small one-design and ice-boat sails. Because of the success in the one-design fleets of the 40's and 50's, Boston Sails was chosen to build sails for larger cruising and racing sailboats. The Sarnia location was established in 1968 in Sarnia, Ontario, Canada by Spike Boston and is now operated by Spike alongside his children Tac Boston, Brad Boston and Lynz Jackson.

And a changing of the guard in the United States Midwest sees Skip Dieball, one of the most accomplished and respected sailors in the US come onboard with Doyle Sails.

Skip cut his sail making teeth in his native Midwest area, having owned and operated sail lofts for many years. A true sailing expert offering design, manufacture and sailing expertise to all sailors, from One Design classes and cruising yachts through to Grand Prix race yachts.

Throughout his career, Dieball has earned 37 major One Design Titles and continues to build off this success on and off the water – as the immediate past Waterfront Director for the Chicago Yacht Club he actively sailed and coached as much as the schedule allowed. He continues to be passionate about building sailing and helping sailors in the Midwest.
Originally from Christchurch, Andrew Brown is the holder of 13 national titles in dinghy racing, and represented New Zealand at the 2004 Olympics in the International 470 Class. He currently undertakes contract coaching for the Yachting New Zealand's NZL Sailing Team, as well as coaching locally and internationally and running local yacht club programmes in Auckland as well as being part of a long term commitment by Doyle Sails to the One Design market. Andrew is supported by One Design expert designer Andrew Lechte, who is based out of Australia and focuses primarily on the strengthening of the global One Design division.
Based in Austria, sailing legend and Olympian Hubert Raudaschl founded Raudaschl Sails over 50 years ago and is joined by son Florian Raudaschl who is a very experienced sailor and competed at the London 2012 Olympic Games in the Finn class. Hubert has competed at an amazing 10 Olympic Games and has won several Olympic, World Championships and European Championships.

Ulf Tjernberg opened the Doyle Sails loft in Sweden in 1989 and is primarily focused on Racing and Performance Sails with special attention being paid to one design classes and are especially successful in the 2.4 meter and M32 classes.