Pushing boundaries and winning all over the world.

Doyle Sails has become a leading force worldwide in Grand Prix race sails, from Foiling Moths all the way through to the most high-profile Super Maxi's. One of Doyle's biggest strengths in the Grand Prix sector has been the team of experienced, passionate sailors that see the projects through from concept to competition.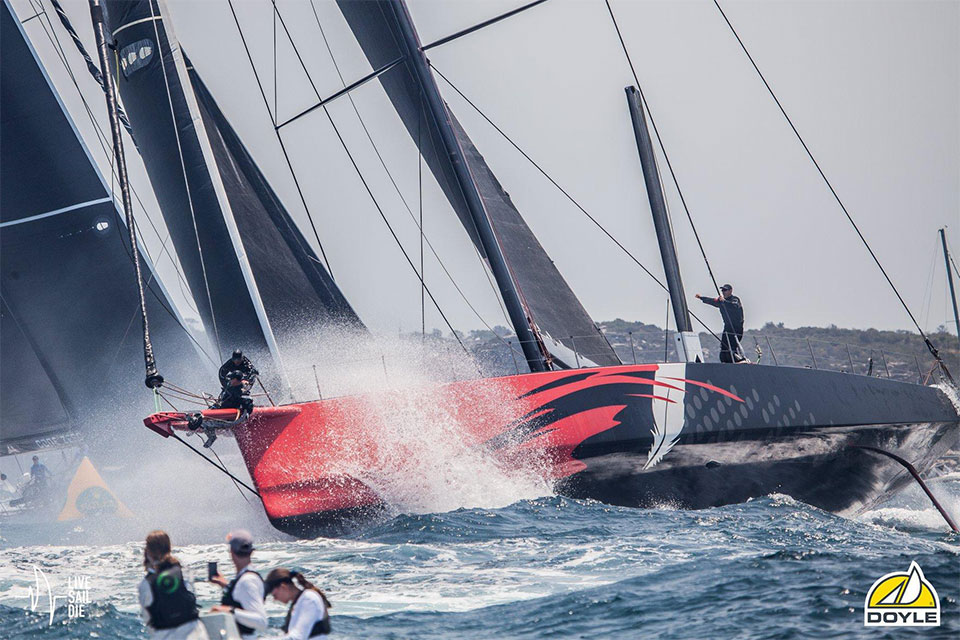 In fact, many of Doyle's innovations from a conceptual standpoint come from their in-house team of Grand Prix sailors such as, Richard Bouzaid, Mike Sanderson, Robbie Doyle, Stu Bannatyne, Justin Ferris and Guillermo Altadill. The group is constantly competing at the highest level to ensure Doyle stays at the forefront of sail development.

Extensive testing on the water of the final product, coupled with cutting edge CFD and FEA software and design tools, have allowed us to develop sail shapes and crossovers perfected for the individual custom Grand Prix yacht. This, combined with our in-house SailPack design program and an incredibly detailed production process, offers unrivalled performance for our customers.
'Comanche has been able to realise more of her potential with the addition of Doyle's Cableless Sails, I highly recommend this exciting technology for any size boat. The big jibs and the A3 are very powerful yet significantly lighter than I expected, increasing acceleration with greater righting moment. The sails' ability to hold their shape at all angles with virtually no luff sag is astounding on such big sails. We have reduced rig load dramatically with these sails and our performance improved in all conditions, particularly light air. Our new Doyle mainsail is exceptionally high quality and the reduction in permanent weight aloft gives immediate gains in all wind strengths.

- JIM COONEY, Owner Comanche
'Infotrack have sailed under North Sails for all our racing career and this year in 2018, we have decided to give Doyle Sails the opportunity to provide inventory due to a few factors. 1 - Doyle have developed a new 'cableless' sail system which is very interesting as well as lighter. 2 - Doyle, via Richard Bouziad, have reviewed much of our inventory with the sole motivation of betterment or questioning the questionable. 3 - Last but not least, you get a lot of 'bang for your buck' from Doyle. We have bought 6 new sails as well as other performance enhancing items and at very reasonable prices. The Doyle team, led by Mike Sanderson and David Duff were just passionate, focused and very intelligent. Richard was all over evey area with hands on involvement and now having Chris Nicholson driving the Australian end, it makes for comfortable commercial decision making. It is also great to work with GREAT blokes.

- JOE AKACICH, Skipper InfoTrack